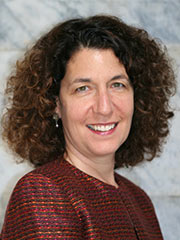 Susan Buchbinder, MD
Clinical Professor of Medicine, UCSF
Biography
Susan Buchbinder, MD is the Director of HIV Prevention Research in the San Francisco Department of Public Health and Clinical Professor of Medicine, Epidemiology and Biostatistics at the University of California, San Francisco.

Her primary interest is in developing, evaluating, and implementing strategies likely to have the greatest impact in preventing new HIV infections. She leads several HIV prevention clinical trials, including trials evaluating HIV vaccines, pre-exposure prophylaxis (antiretroviral use in HIV uninfected persons), and treatment of sexually transmitted diseases to prevent HIV acquisition. She is also evaluating strategies to integrate successful prevention strategies with community-based clinical and prevention practices. Dr. Buchbinder is an attending physician at San Francisco General Hospital's General Medical Clinic. She also mentors students, residents, and fellows in UCSF's Advanced Training in Clinical Research Program and through the mentorship program at UCSF's Center for AIDS Research.

Dr. Buchbinder serves on the leadership groups of several national and international clinical trials groups including the NIH-sponsored HIV Vaccine Trials Network, where she leads efficacy trials efforts, and the NIH's Sexually Transmitted Diseases Clinical Trials Group. She also serves on the NIH AIDS Research Advisory Council and NIH AIDS Vaccine Research Subcommittee. She serves on the editorial boards of several medical journals.

Dr. Buchbinder is a graduate of Brown University, UCSF Medical School, and the Primary Care Internal Medicine Residency at San Francisco General Hospital. She lives in San Francisco with her husband and 2 children.