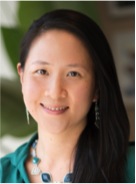 Nadia Roan, PhD
Senior Investigator, Gladstone Institutes
Professor, School of Medicine
Biography
Dr. Roan has had a long-standing interest in understanding the effect of host factors on microbial pathogens of the genital mucosa. Her research as a graduate student led to new insights into the nature of the mucosal immune response directed against the most common sexually transmitted bacterium C. trachomatis. She created and characterized C. trachomatis-specific TCR transgenic and retrogenic mice, and used these mice as tools to understand the inflammatory response to C. trachomatis within the upper female reproductive tract (FRT). During her postdoctoral years, Dr. Roan continued her studies on sexually transmitted microbes, but transitioned to studying HIV-1, a viral pathogen with a devastating effect on global health. She focused on understanding the effect of semen components on HIV-1 infection. She identified and characterized amyloid fibrils made up of peptides derived from the major components of the semen coagulum. These amyloids markedly enhance HIV infection, in part by promoting the attachment of HIV-1 to their cellular targets.
Dr. Roan's current research interest focuses on two major areas. First, she is investigating the mechanisms by which semen components such as coagulum-derived amyloids promote HIV transmission, and the effects of these components on the effectiveness of currently available anti-HIV microbicides. This understanding will help the development of a new class of "combination microbicides" that contain components targeting both HIV-1 and naturally-occurring factors that promote HIV-1 infectivity. In parallel, a high-throughput screen is currently being conducted to identify compounds that inhibit the activity of viral-enhancing factors in semen. Dr. Roan's second line of research is to understand the physiological functions of semen amyloids and their effects on cells present in the genital mucosa. This understanding will reveal insights into the roles of these semen factors in reproduction, which can lead to novel ways to enhance fertility or to the development of a new class of contraceptives.
Yin K, Peluso MJ, Thomas R, Shin MG, Neidleman J, Luo X, Hoh R, Anglin K, Huang B, Argueta U, Lopez M, Valdivieso D, Asare K, Ibrahim R, St?ndker L, Lu S, Goldberg SA, Lee SA, Lynch KL, Kelly JD, Martin JN, M?nch J, Deeks SG, Henrich TJ, Roan NR. Long COVID manifests with T cell dysregulation, inflammation, and an uncoordinated adaptive immune response to SARS-CoV-2. bioRxiv. 2023 Feb 10.

George AF, Roan NR. Advances in HIV Research Using Mass Cytometry. Curr HIV/AIDS Rep. 2023 Jan 23; 1-10.

Xu Y, Weideman AM, Abad-Fernandez M, Mollan KR, Kallon S, Samir S, Warren JA, Clutton G, Roan NR, Adimora AA, Archin N, Kuruc J, Gay C, Hudgens MG, Goonetilleke N. Corrigendum: Reliable estimation of CD8 T cell inhibition of in vitro HIV-1 replication. Front Immunol. 2022; 13:1104661.

J. Frouard, X. Luo, N. Roan. PP 1.16 – 00100 Single-cell multiomics analysis reveals distinct mechanisms of HIV persistence in memory CD4+ T cell subsets from tissues. Journal of Virus Eradication. 2022 Dec 1; 8:100121.

U. Lange, C. Schwarz, L. Brauckmann, J. Frouard, N.R. Roan. PP 1.31 – 00161 Chimeric proviral/human transcription events at the BACH2 integration locus in cellular models for chronic HIV infection. Journal of Virus Eradication. 2022 Dec 1; 8:100135.

Kong W, Montano M, Corley MJ, Helmy E, Kobayashi H, Kinisu M, Suryawanshi R, Luo X, Royer LA, Roan NR, Ott M, Ndhlovu LC, Greene WC. Neuropilin-1 Mediates SARS-CoV-2 Infection of Astrocytes in Brain Organoids, Inducing Inflammation Leading to Dysfunction and Death of Neurons. mBio. 2022 Oct 31; e0230822.

Packard TA, Schwarzer R, Herzig E, Rao D, Luo X, Egedal JH, Hsiao F, Widera M, Hultquist JF, Grimmett ZW, Messer RJ, Krogan NJ, Deeks SG, Roan NR, Dittmer U, Hasenkrug KJ, Greene WC. CCL2: a Chemokine Potentially Promoting Early Seeding of the Latent HIV Reservoir. mBio. 2022 10 26; 13(5):e0189122.

Lee KS, Wong TY, Russ BP, Horspool AM, Miller OA, Rader NA, Givi JP, Winters MT, Wong ZYA, Cyphert HA, Denvir J, Stoilov P, Barbier M, Roan NR, Amin MS, Martinez I, Bevere JR, Damron FH. SARS-CoV-2 Delta variant induces enhanced pathology and inflammatory responses in K18-hACE2 mice. PLoS One. 2022; 17(8):e0273430.

George AF, McGregor M, Gingrich D, Neidleman J, Marquez RS, Young KC, Thanigaivelan KL, Greene WC, Tien PC, Deitchman AN, Spitzer TL, Roan NR. Female Genital Fibroblasts Diminish the In Vitro Efficacy of PrEP against HIV. Viruses. 2022 08 04; 14(8).

Ma T, McGregor M, Giron L, Xie G, George AF, Abdel-Mohsen M, Roan NR. Single-cell glycomics analysis by CyTOF-Lec reveals glycan features defining cells differentially susceptible to HIV. Elife. 2022 07 05; 11.

Luo X, Frouard J, Zhang G, Neidleman J, Xie G, Sheedy E, Roan NR, Greene WC. Subsets of Tissue CD4 T Cells Display Different Susceptibilities to HIV Infection and Death: Analysis by CyTOF and Single Cell RNA-seq. Front Immunol. 2022; 13:883420.

Suryawanshi RK, Chen IP, Ma T, Syed AM, Brazer N, Saldhi P, Simoneau CR, Ciling A, Khalid MM, Sreekumar B, Chen PY, Kumar GR, Montano M, Gascon R, Tsou CL, Garcia-Knight MA, Sotomayor-Gonzalez A, Servellita V, Gliwa A, Nguyen J, Silva I, Milbes B, Kojima N, Hess V, Shacreaw M, Lopez L, Brobeck M, Turner F, Soveg FW, George AF, Fang X, Maishan M, Matthay M, Morris MK, Wadford D, Hanson C, Greene WC, Andino R, Spraggon L, Roan NR, Chiu CY, Doudna JA, Ott M. Limited cross-variant immunity from SARS-CoV-2 Omicron without vaccination. Nature. 2022 07; 607(7918):351-355.

Vallvé-Juanico J, George AF, Sen S, Thomas R, Shin MG, Kushnoor D, Vásquez JJ, Vo KC, Irwin JC, Roan NR, Combes AJ, Giudice LC. Deep immunophenotyping reveals endometriosis is marked by dysregulation of the mononuclear phagocytic system in endometrium and peripheral blood. BMC Med. 2022 04 15; 20(1):158.

Xie G, Moron-Lopez S, Siegel DA, Yin K, Polos A, Cohen J, Greenblatt RM, Tien PC, Lee SA, Yukl SA, Roan NR. Common and Divergent Features of T Cells from Blood, Gut, and Genital Tract of Antiretroviral Therapy-Treated HIV+ Women. J Immunol. 2022 04 01; 208(7):1790-1801.

Peters BA, Moon JY, Hanna DB, Kutsch O, Fischl M, Moran CA, Adimora AA, Gange S, Roan NR, Michel KG, Augenbraun M, Sharma A, Landay A, Desai S, Kaplan RC. T-cell immune dysregulation and mortality in women with HIV. J Infect Dis. 2021 Aug 27.

George AF, Luo X, Neidleman J, Hoh R, Vohra P, Thomas R, Shin MG, Lee MJ, Blish CA, Deeks SG, Greene WC, Lee SA, Roan NR. Deep Phenotypic Analysis of Blood and Lymphoid T and NK Cells From HIV+ Controllers and ART-Suppressed Individuals. Front Immunol. 2022; 13:803417.

Pedersen JG, Egedal JH, Packard TA, Thavachelvam K, Xie G, van der Sluis RM, Greene WC, Roan NR, Jakobsen MR. Cell-Extrinsic Priming Increases Permissiveness of CD4+ T Cells to Human Immunodeficiency Virus Infection by Increasing C-C Chemokine Receptor Type 5 Co-receptor Expression and Cellular Activation Status. Front Microbiol. 2021; 12:763030.

Adeniji OS, Kuri-Cervantes L, Yu C, Xu Z, Ho M, Chew GM, Shikuma C, Tomescu C, George AF, Roan NR, Ndhlovu LC, Liu Q, Muthumani K, Weiner DB, Betts MR, Xiao H, Abdel-Mohsen M. Siglec-9 defines and restrains a natural killer subpopulation highly cytotoxic to HIV-infected cells. PLoS Pathog. 2021 11; 17(11):e1010034.

Neidleman J, Luo X, McGregor M, Xie G, Murray V, Greene WC, Lee SA, Roan NR. mRNA vaccine-induced T cells respond identically to SARS-CoV-2 variants of concern but differ in longevity and homing properties depending on prior infection status. Elife. 2021 10 12; 10.

Ma T, Ryu H, McGregor M, Babcock B, Neidleman J, Xie G, George AF, Frouard J, Murray V, Gill G, Ghosn E, Newell EW, Lee SA, Roan NR. Protracted yet Coordinated Differentiation of Long-Lived SARS-CoV-2-Specific CD8+ T Cells during Convalescence. J Immunol. 2021 09 01; 207(5):1344-1356.

Moron-Lopez S, Xie G, Kim P, Siegel DA, Lee S, Wong JK, Price JC, Elnachef N, Greenblatt RM, Tien PC, Roan NR, Yukl SA. Tissue-specific differences in HIV DNA levels and mechanisms that govern HIV transcription in blood, gut, genital tract and liver in ART-treated women. J Int AIDS Soc. 2021 Jul; 24(7):e25738.

Xu Y, Weideman AM, Abad-Fernandez M, Mollan KR, Kallon S, Samir S, Warren JA, Clutton G, Roan N, Adimora AA, Archin N, Kuruc J, Gay C, Hudgens MG, Goonetilleke N. Reliable Estimation of CD8 T Cell Inhibition of In Vitro HIV-1 Replication. Front Immunol. 2021; 12:666991.

Neidleman J, Luo X, George AF, McGregor M, Yang J, Yun C, Murray V, Gill G, Greene WC, Vasquez J, Lee SA, Ghosn E, Lynch KL, Roan NR. Distinctive features of SARS-CoV-2-specific T cells predict recovery from severe COVID-19. Cell Rep. 2021 07 20; 36(3):109414.

Egedal JH, Xie G, Packard TA, Laustsen A, Neidleman J, Georgiou K, Pillai SK, Greene WC, Jakobsen MR, Roan NR. Hyaluronic acid is a negative regulator of mucosal fibroblast-mediated enhancement of HIV infection. Mucosal Immunol. 2021 09; 14(5):1203-1213.

Xie G, Luo X, Ma T, Frouard J, Neidleman J, Hoh R, Deeks SG, Greene WC, Roan NR. Characterization of HIV-induced remodeling reveals differences in infection susceptibility of memory CD4+ T cell subsets in vivo. Cell Rep. 2021 Apr 27; 35(4):109038.