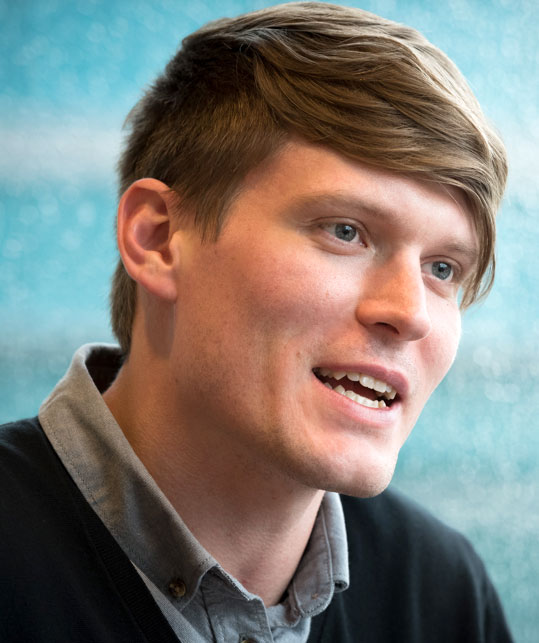 Tom Packard,PhD
Postdoctoral Scholar, Gladstone Institutes
Biography
Career Overview
Thomas Packard is a postdoctoral scholar in Warner Greene's laboratory at the Gladstone Institute of Virology and Immunology. His research focuses on HIV pathogenesis mechanisms: specifically, the molecular pathways that are triggered during HIV infection, and how these pathways shape the immune response. He am fascinated by innate immune sensing, as these signals are critical to driving protective and pathologic immune responses. By investigating the molecular pathways involved, we can exploit these interactions to modulate the immune response, enhancing host defense while inhibiting inflammation or autoimmunity. He received his PhD in Immunology from University of Colorado SOM; where he studied B cells in autoimmunity, as well as innate immune activation driving inflammation. His current research focuses on the role of the host innate response in establishment of the latent HIV reservoir.
Spotlight: 2018 CFAR Excellence Award Recipient
The HIV reservoir is one of the most exciting and essential areas of basic science research in the field – and Thomas Packard is exploring how it establishes itself in a person recently infected with the virus. Hijacking the immune system, he explains, the "virus infects cells that are recruited to the site of inflammation – this proves may create the foundation of the reservoir."
The reservoir is the target for cure – and Packard's next experiments will use humanized mice to see if treatment with antibodies that target specific inflammatory proteins can block or disrupt the reservoir.
Growing up outside of Washington, D.C., Packard moved to Denver where he finished a degree in biology at the University of Colorado-Denver, followed by a PhD in immunology from the University of Colorado School of Medicine. Now living in the East Bay with his wife Sadie, and two kids, Evelyn (3) and Raleigh (8 months), he also plays music, golf, and maximizes time with his friends and family – which can be difficult to balance with his current work and goals.
When pressed for his dream achievement in the field of HIV, he says in fact, he's already pursuing it – identifying a new way to target the reservoir cells for removal as part of an HIV cure strategy. His work awarded here proves he's well on his way.