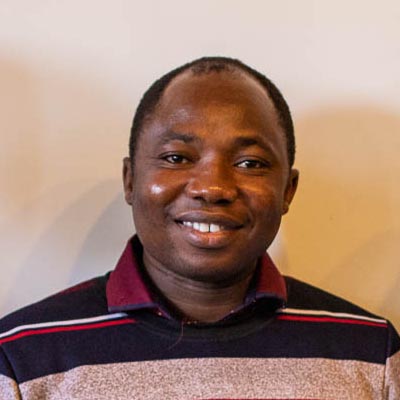 Jerry Nutor, PhD, RN, MS
Assistant Professor, School of Nursing
Biography
Jerry John Nutor is an assistant professor in the Department of Family Health Care Nursing. His program of research primarily focuses on understanding the impact of environmental, social and economic factors with particular focus on adherence to antiretroviral therapy and prevention of mother-to-child transmission of HIV. He has ongoing research projects in Ghana, Kenya, Uganda, and Zambia. Jerry's research has been published in BMJ Global Health, BMJ Open, PLoS One, PLoS Global Health, International Health and BMC Public Health among others. Jerry is also passionate about promoting collaboration between scholars and researchers in the global south and global north. He is the founder and secretary general of Africa Interdisciplinary Health Conference (AfIHC). He founded AfIHC to create a platform for the various healthcare providers in clinical and academic/research settings to meet and discuss their research findings to promote evidence-based practices related to the health sector in Africa.
Recipient, 2023 Early-Career Research Excellence Award for Excellence in Socio-Behavioral Science
Abaka P, Nutor JJ. Transitioning from pediatric to adult care and the HIV care continuum in Ghana: a retrospective study. BMC Health Serv Res. 2021 May 17; 21(1):462.

Afulani PA, Gyamerah AO, Nutor JJ, Laar A, Aborigo RA, Malechi H, Sterling M, Awoonor-Williams JK. Inadequate preparedness for response to COVID-19 is associated with stress and burnout among healthcare workers in Ghana. PLoS One. 2021; 16(4):e0250294.

Alhassan RK, Nutor JJ, Abuosi AA, Afaya A, Mohammed SS, Dalaba MA, Immurana M, Manyeh AK, Klu D, Aberese-Ako M, Doegah PT, Acquah E, Nketiah-Amponsah E, Tampouri J, Akoriyea SK, Amuna P, Ansah EK, Gyapong M, Owusu-Agyei S, Gyapong JO. Urban health nexus with coronavirus disease 2019 (COVID-19) preparedness and response in Africa: Rapid scoping review of the early evidence. SAGE Open Med. 2021; 9:2050312121994360.

Thompson RGA, Nutor JJ, Johnson JK. Communicating Awareness About COVID-19 Through Songs: An Example From Ghana. Front Public Health. 2020; 8:607830.

Nutor JJ, Slaughter-Acey JC, Afulani PA, Obimbo MM, Mojola SA. The Relationship Between Counseling and Adherence to Antiretroviral Therapy Among Pregnant and Breastfeeding Women Enrolled in Option B. AIDS Educ Prev. 2020 10; 32(5):378-391.

Nutor JJ, Slaughter-Acey JC, Marquez SP, DiMaria-Ghalili RA, Momplaisir F, Oladimeji KE, Jemmott LS. Impact of attitudes and beliefs on antiretroviral treatment adherence intention among HIV-positive pregnant and breastfeeding women in Zambia. BMC Public Health. 2020 Sep 16; 20(1):1410.

Afulani, P. A., Gyamerah, A. O., Aborigo, R. A., Nutor, J. J., Malechi, H., Laar, A., ... & Awoonor-Williams, J. K. . Perceived preparedness to respond to the COVID-19 pandemic: a study with healthcare workers in Ghana. Journal of Global Health Science. 2020; 2:1-16.

Agbadi P, Nutor JJ, Darkwah E, Duah HO, Duodu PA, Alhassan RK, Baltzell K. Covariates and Spatial Interpolation of HIV Screening in Mozambique: Insight from the 2015 AIDS Indicator Survey. Int J Environ Res Public Health. 2020 08 05; 17(16).

Nutor JJ, Duah HO, Agbadi P, Duodu PA, Gondwe KW. Spatial analysis of factors associated with HIV infection in Malawi: indicators for effective prevention. BMC Public Health. 2020 Jul 25; 20(1):1167.

Nutor JJ, Duodu PA, Agbadi P, Duah HO, Oladimeji KE, Gondwe KW. Predictors of high HIV+ prevalence in Mozambique: A complex samples logistic regression modeling and spatial mapping approaches. PLoS One. 2020; 15(6):e0234034.

Nutor JJ, Slaughter-Acey JC, Marquez SP, DiMaria-Ghalili RA, Momplaisir F, Jemmott LS. Influence of toilet access on antiretroviral adherence intention among pregnant and breastfeeding women who are HIV-positive and enrolled in Option B. Health Care Women Int. 2021 03; 42(3):261-275.

Tagoe ET, Agbadi P, Nakua EK, Duodu PA, Nutor JJ, Aheto JMK. A predictive model and socioeconomic and demographic determinants of under-five mortality in Sierra Leone. Heliyon. 2020 Mar; 6(3):e03508.

Nutor, J. J., Slaughter-Acey, J. C., Marquez, S., & Opong, E. . Factors associated with HIV medication adherence in HIV-positive women enrolled in Option B+ in Zambia: a cross-sectional survey. The Lancet Global Health. 2019; 7:S7.

Nutor JJ, Slaughter-Acey JC, Giurgescu C, Misra DP. Symptoms of Depression and Preterm Birth Among Black Women. MCN Am J Matern Child Nurs. 2018 Sep/Oct; 43(5):252-258.

Nutor JJ, Bell JF, Slaughter-Acey JC, Joseph JG, Apesoa-Varano EC, de Leon Siantz ML. Household resources as determinants of child mortality in Ghana. Rural Remote Health. 2017 Jul-Sep; 17(3):4202.

Murray-Garcia, J., Ackerman-Barger, K. W., Goldstein, E., & Nutor, J. J. . Building Individual and Institutional Capacity of an Urban Academic Health System to Serve Local Sex Trafficking Victims. JCSCORE. 2017; 3(2):62-96.

Nutor, J. J., Marquez, S. P., & Slaughter-Acey, J. C. . Improving Breastfeeding Practices at the Community Level: Result from Sinazongwe District, Zambia. Annals of Global Health. 2017; 1(83):196.

Nutor, J. J., Kayingo, G., Bell, J. F., & Joseph, J. G.. Knowledge, attitudes and practices regarding care of newborn umbilical cord among healthcare workers and mothers in the Volta region of Ghana. Annals of Global Health. 2016; 82(3):548.