UCSF-Gladstone CFAR Director's Update
February 16, 2021
Valentine's Day!
Dear CFAR Community,
This year's Valentine's Day gifts are the very promising COVID-19 vaccines! All of the pivotal work done across UCSF contributed to these developments. On November 9, 2020 (just 8 months after the WHO declared COVID-19 a worldwide pandemic), the press release for the first effective COVID-19 vaccine from Pfizer/BioNTech was issued, followed by positive announcements regarding the safety and efficacy of five other vaccines from Moderna, University of Oxford/AztraZeneca, Novavax, Johnson and Johnson and Sputnik V. All of these vaccines code for or involve the spike protein of the SARS-CoV-2 virus. The Moderna and Pfizer vaccines have earned emergency use authorization through the FDA in the U.S. The FDA hearing for the EUA of the Johnson and Johnson vaccine (1-dose) is scheduled for February 26. The vaccines are all highly effective against preventing severe disease, even with circulating variants of concerns, likely due to the generation of robust T cell responses across multiple epitopes. Below is a table that summarizes the efficacy of the various vaccines with phase 3 clinical trial data for severe or milder disease. Now we hope for equitable worldwide distribution of the vaccines and please see her for more information on the COVID-19 Technology Access Pool by the WHO (which reminds me of the HIV community's advocacy to ensure ART was made more affordable worldwide), with an online petition if interested.
Image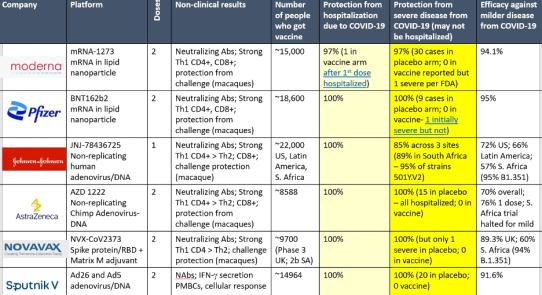 Thank you- as always to Peter Hunt, Mallory Johnson, Lauren Sterling for all of their leadership as well as Cesar Cadabes, Brenda Sanchez, Frank Fernandez and Joe Watabe for their great work with the CFAR!
Monica
Announcement regarding Re-competition for Co-Director of Mentoring Program of CFAR
In preparation for our CFAR renewal due next summer, we have implemented a policy of recompeting all historical CFAR components. As a part of this process, we would like to invite applicants for the role of CFAR Mentoring Program Co-Director in the Developmental Core. This person will work closely with Dr. John Sauceda, Mentoring Program Co-Director and Lead of the CFAR Underrepresented Minority (URM) Group in HIV Research, to coordinate the content of the overall CFAR mentoring program, including the monthly career development workshops, the annual research symposium, the annual leadership retreat, the lightning rounds sessions, and the CFAR mentor-mentee matched pairings. Salary support of 5-7.5% FTE (up to the NIH salary cap) will be provided.
The following qualities, skills, expertise, and qualifications are important in this role:
HIV/AIDS researcher with a track record of independent NIH-funded HIV research and publications in the field of HIV/AIDS
Track record of mentoring (e.g. primary or co-mentor of T32 scholars, K scholars)
Familiarity with CFAR or other organized mentoring programs
Formal mentorship training (through CFAR Mentoring the Mentors program or others)
UCSF, Gladstone, SFDPH, Vitalant, SFVAMC appointment at the Associate Professor level or above
MD, Ph.D. or other doctoral degree in relevant field
Collaborative, interdisciplinary mindset, team-oriented, detail-oriented, willing to lead papers from Mentoring Program of CFAR
Diplomatic, strategic, and innovative thinker
Experience with research training, education, and curriculum development
URM investigators who fit the criteria above are encouraged to apply. If interested, applicants should submit their NIH Biosketch or CV as well as a cover letter addressing: 1) their interest in the position, 2) their relevant research and mentoring experience, 3) their ideas for enhancing the mentoring program activities, and 4) discussing any other factors they think should be considered by the review committee. Applications are due COB Monday, March 8, 2021, and a decision will be made by the end of the month. Please submit your application here: https://cfar.ucsf.edu/call-applicants-co-director-cfars-mentoring-progr…
Please nominate your mentee for a CFAR Excellence Award (to be presented after Dr. Fauci's talk to our CFAR)
Image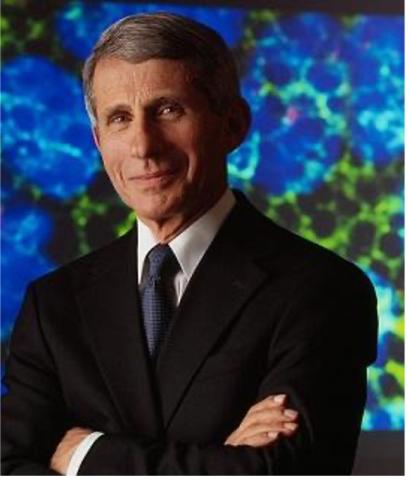 We are continuing our proud tradition of awarding early stage investigators CFAR Excellence Awards in the fields of clinical research, basic/translational research, and Sociobehavioral research. Please nominate your mentee here by February 26, 2021. The Excellence Awards will be presented following Dr. Anthony Fauci's talk virtually on April 7, 2021 to our CFAR on "Lessons from the Concurrent HIV/AIDS and COVID-19 Pandemics".
Announcing new leadership and structure in our Scientific Working Groups
Transitions in Implementation Science Group of the UCSF-Gladstone CFAR: We would like to announce the transition of the Implementation Science Working Group (ISWG) to the CFAR Implementation Science Interest Group (ISIG). Dr. Andrew Kerkhoff, fellow in the Division of HIV, Infectious Diseases and Global Medicine, will lead this group as Dr. Dave Glidden has stepped down from the ISWG leadership. We are transitioning to a new monthly meeting schedule, with meetings on the third Wednesday of each month at 10am. We will continue to offer the opportunity to present Works-in-Progress and add a bi-monthly Journal Club to address implementation science methods in healthcare and research settings. We also offer access to Sawtooth Discrete Choice Experiment software through the ISIG. Fill out this form if you'd like to be included in ISIG activities.
New HIV-COVID-19 Scientific Working Group of the CFAR: We are excited to announce the launch of our new CFAR COVID-19/HIV Scientific Working Group (SWG), led by Drs. Michael Peluso and Steve Deeks! The goal of the COVID-19/HIV SWG is to bring together UCSF investigators working on clinical, epidemiological, translational, basic science, and social science/behavioral research questions at the intersection between HIV and COVID-19 research. This group will provide a space for senior and early-career investigators to present ongoing research, develop research collaborations, and provide opportunities for investigators to obtain input on grant submissions. With the ongoing challenges of COVID, it is likely these questions will continue to be of great importance for our patients that we serve through research. We hope you will join us at this new and exciting SWG. If you think you will be interested in being a part of the SWG, please fill out this web form.
Congratulations to CFAR Clinical Core (SCOPE) investigators as contributing to Runner-Up Project for 2020 Science Breakthroughs of the Year!
Many studies have examined elite controllers, but this new work in Nature stood apart in size and scope, comparing integrated HIV in the 64 elite controllers with that in 41 HIV-infected people on treatment. This data from the UCSF CFAR Clinical Core suggest that a distinct configuration of the proviral reservoir represents a structural correlate of natural viral control, and that the quality, rather than the quantity, of viral reservoirs can be an important distinguishing feature for a functional cure of HIV-1 infection. This study was so important that it was named a runner-up to the 2020 Science Breakthrough of the Year!
Congratulations to these recent grant awardees!
NIH Awards
CFAR Awards
ARI Awards
Current Funding Opportunities of Interest to CFAR Investigators
RAP Awards:
Other Funding Opportunities