UCSF-Bay Area Center for AIDS Research
Image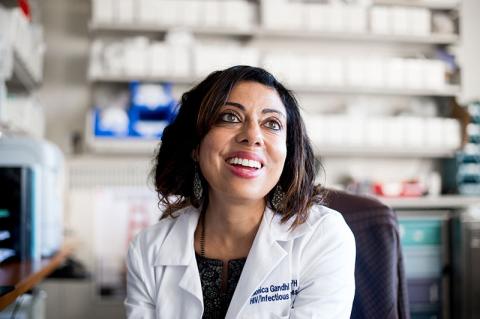 Monica Gandhi MD, MPH, Professor of Medicine and Associate Chief in the Division of HIV, Infectious Diseases, and Global Medicine, was selected by a committee of San Francisco's HIV and UCSF School of Medicine leaders to serve as the Director of the NIH-funded UCSF-Gladstone Center for AIDS Research (CFAR), a position that supports HIV and AIDS research across all three campuses and our affiliates in San Francisco (including the Gladstone Institutes, San Francisco Department of Public Health, the San Francisco VA Medical Center/NCIRE, and the Vitalant Research Institute).
Dr. Gandhi has served as the Medical Director of the Ward 86 HIV Clinic since January 2014, received the HIV Medical Association (HIVMA) Clinical Educator Award in 2017, and was awarded the Master Clinician award from the UCSF Department of Medicine in 2019. An NIH funded researcher since 2003 and the clinical director of the UCSF Hair Analytical Laboratory (HAL), Dr. Gandhi's interests include adherence metrics and PrEP, HIV and women, and sex differences in HIV medicine. She is especially interested in mentoring early stage investigators, particularly those from underrepresented racial/ethnic minorities, from disadvantaged backgrounds, and with disabilities. She currently serves as the co-director of the CFAR Mentoring Program.
"I am completely thrilled to continue the legacy of the UCSF-Gladstone CFAR and ensure, with our entire HIV community, that we remain at the forefront of cutting edge HIV medicine and research," said Gandhi.
Dr. Gandhi is excited to maintain an open door policy within the CFAR community here at UCSF, and is eager to serve with its partners and constituents in continuing to make UCSF an innovative and exciting place to conduct HIV research.
Previously led by Dr. Paul Volberding (since 1988) and Dr. Warner Greene (since 1992), the UCSF-Gladstone CFAR is one of the oldest CFARs in the nation. Uniquely positioned to serve both the basic science and clinical/epidemiology/implementation science communities, our CFAR has led the field in promoting multidisciplinary translational HIV research.
Learn more about Dr. Gandhi's work and training at UCSF.
See Also