UCSF-Bay Area Center for AIDS Research
The Andy I. Choi Mentoring Program of the UCSF-Gladstone Center for AIDS Research announced the recipients of the 2019 Early-Career Research Excellence Awards. The awards will be presented at the annual Mentoring Program Research Symposium on April 16, 2019.
---
Excellence in Basic Science
Andrea Gramatica, PhD
Dr. Gramatica is a scientist in Warner Greene's laboratory at the Gladstone Institute of Virology and Immunology. His research focuses on identifying new, non-toxic, small-molecule compounds that antagonize HIV latency in CD4 T cells. He is now collaborating with Dr. Louis Picker's lab, at the Oregon Health & Science University, to study whether one of the compounds he has identified can reverse latency in vivo in SIV-infected rhesus monkeys on suppressive antiretroviral treatment. Dr. Gramatica studied Biotechnology (BS) and Industrial Biotechnology (MS) in Milan, Italy, and received his PhD from the Humboldt University of Berlin, Germany.
Excellence in Clinical Science
Matthew Spinelli, MD
Dr. Spinelli is an Infectious Disease fellow in the Division of HIV, ID, and Global Medicine at the Zuckerberg San Francisco General Hospital. His research focuses on PrEP care outcomes and adherence measurement. New projects involve the use of point of care diagnostics to enhance PrEP counseling and motivate adherence. He sees patients in the Positive Health Program at Ward 86 and in the Infectious Diseases clinic at Zuckerberg San Francisco General Hospital.
Excellence in Behavioral Science
John Sauceda, PhD
Image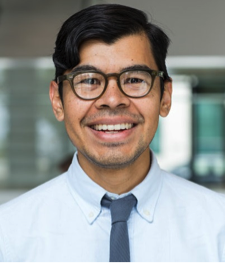 Dr. John A. Sauceda is a health psychologist and Assistant Professor at the Center for AIDS Prevention Studies at UCSF. His research focuses on the drivers of HIV treatment and care outcomes among Latinx patients, and highlights the complexities of research for immigrant communities and in Spanish. He works with Latinx patients at the SALUD Clinic within Ward 86 HIV Clinic at Zuckerberg San Francisco General Hospital and within the CFAR Network of Integrated Clinical Systems cohort.